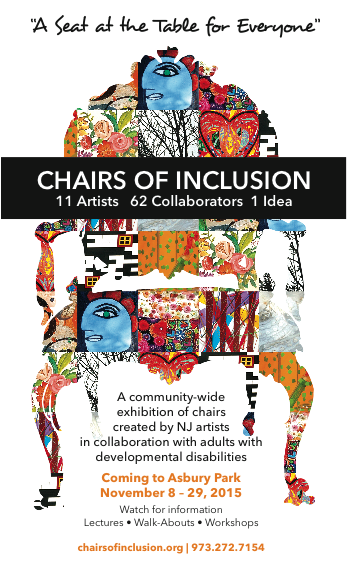 15 Nov

Chairs of Inclusion exhibit now until 11/29

Chairs of Inclusion brought to you by the WAE Center is a large-scale collaborative art project commissioned and created to celebrate the tenth anniversary of JSDD's Wae Center will be exhibited in Downtown Asbury Park, NJ, Nov. 8 – 29, 2015.

This community-wide exhibition of 12 life-sized chairs shifts perceptions about people with developmental disabilities and makes a public statement about the importance of "inclusion" in community, family and daily life. The Chairs will be individually displayed in various Downtown Asbury Park venues including TAO 611 Bangs Avenue.

TAO is open 7 days a week where you may view the chair "ASCEND" simply by walking into the reception area.
We affectionately renamed "our" chair "Chairwae to Heaven" in honor of the WAE Center's 10th Anniversay.

Check out this link for the Chairs of Inclusion events related to the Asbury Park exhibit/chair crawl!